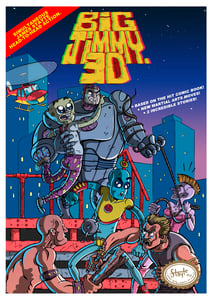 £

5.00
The third book in the saga of the most adorable, monster-thumpin' Martian powerhouse is here!
This issue of Big Jimmy has a little extra OOOMF in it. Firstly it's in FULL COLOUR! A whole rainbow of 'em! Secondly, both stories will feature three dimensional panels, where stuff jumps out of the page at you (GASP!).
How will you be able to appreciate this with your beautiful, regular eyes? With your complimentary pair of 3D glasses that come with the issue Dood! Read along in goggle-eyed wonder as Jimmy meets a girl with a dangerous secret, then, laugh with soggy aplomb as Cheezdood's superstitions get the gang in hot water!
See a preview here!
28 pages. Full colour. Signed. Free 3D glasses and Jimmy sticker!!